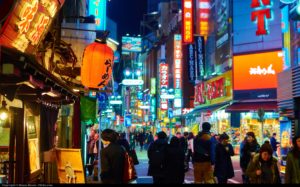 If you are a traveller who loves to eat, Tokyo is a good location for non-stop eating. Here are great places for travelling foodie to enjoy when in Tokyo:
Tsukiji Market
The obvious destination for first-timers to Tokyo. Crowds continue to rush to the market before its closure at the end of 2017. The good thing is the market did not really close. It was relocated, with the innermarket officially re-opening at the Toyosu waterfront district on October 11, 2018. If you only visit Tokyo, the Tsukiji outer market, a collection of over 500 shops and eateries selling everything from fresh seafood to cooking equipment, adjacent to the inner market area, is not going anywhere. You can—and should—still visit it, ideally as part of a combined Toyosu and Tsukiji tour.
Kitchen Street
Another popular destination for food lovers in Tokyo. Kitchen Street, locally known as Kappabashi Street, is a shopping district between Ueno and Asakusa. Store after store after store sells everything needed by local restaurants, except for fresh foods
Tokyo Station's Ramen Street
Looking to taste more than one bowl of ramen? Head to Tokyo Station's Ramen Street, where 8 of the best ramen shops in the city are located within shops of each other in a small area in the bustling Tokyo Station.
Department Stores
My number one recommendation for anyone visiting Japan is the head to the basement floors of the major department stores, like Mitsukoshi Ginza, Daimaru Tokyo Station, Takashimiya, etc. The depachika (the local name for the department store food halls) culture is one of Japan's most special landmarks to feast your eyes